Welcome to Kentwood Public Schools
Kentwood Public Schools are the heart of the community. Our families are an integral and valued part of the education of our students.
We provide the best-trained staff to educate our children in a safe and orderly environment. Education in Kentwood is about capturing the excitement of children to learn and to inspire them to believe in the value of ALL human beings. We know our children will make the world a better place!
We are a "no-excuse" district. Parents allow us to work with their most precious gift - and we are thankful for their confidence and support. Our promise to our parents is to keep them excited about their students' academic accomplishments and awards. The athletic achievements, music, art, and theater experiences further develop our students into well-rounded individuals. In addition, and most importantly, our students' positive self concepts and winning attitudes will make you glad to call Kentwood your home!
"Capturing Kids' Hearts" will assist staff in creating positive and meaningful relationships within the school community. We know a strong connection between teachers and students is the first step in creating a safe and positive school environment.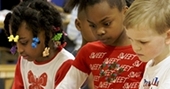 We are a child-centered environment We expect our students to work hard and excel. Rewarding every student's achievement in a nurturing environment is important to us. Our environment and comprehensive standards develop self-motivated students who upon graduation are ready to assume the role of responsible individuals in a global society.
To accomplish our goals we provide:
Clear expectations: The importance of establishing clear expectations at all organizational levels.
Strong relationships: The value of building strong relationships (i.e., teacher/student, parent/teacher, teacher/principal, school/community superintendent/board member).
Academic excellence: A continued commitment to excellence that is data driven, focused on continuous improvement, and being customer centered.
Administration Offices
5820 Eastern Ave. SE
Kentwood, MI 49508
P: 616.455.4400 | F: 616.455.4476
Office Hours
8:00 a.m. - 4:30 p.m. school year
7:30 a.m. - 5:00 p.m. summer break (M-Th)
7:30 a.m. - 11:30a.m. summer break (F)