Class Scheduling & Summer School
Class Scheduling Information & Summer School
June 21 - July 29, 2021 - Monday thru Thursday - Session 1: 8-10 am - Session 2: 10:15-12:15 pm
Click here for SS Online Enrollment Form: Enroll
-----------------------------------------------------------------------------------------------------
Click here for COURSE SCHEDULING 2021-22 website which includes Course Descriptions for all courses, videos from some teachers, KCTC applications, and more.
Learning Format Change
As we approach the halfway point of 2nd Semester, we are asking that families who would like to request a final change in learning format complete an electronic request. We ask that families submit their request to their student's school counselor no later than Tuesday, March 30, 2021. Your learning choice will stay in place for the remainder of the school year. Our goal is that all students be in their best academic environment to have a strong finish to the school year.
Ms. Twilling (Last names A-E) Mr. Mitchell (Last names F-L)
Mrs. VanOveren (Last names M-R) Mrs. Bailey (Last names S-Z)
Grading for 2nd Semester
Please note the grade earned in each second semester class will be the grade entered on your final report card and transcript. Please use ParentVue (synergypvue.kentwoodps.org/) or talk to your teacher regarding your current grades and what can be done now to ensure you are successful in all of your classes.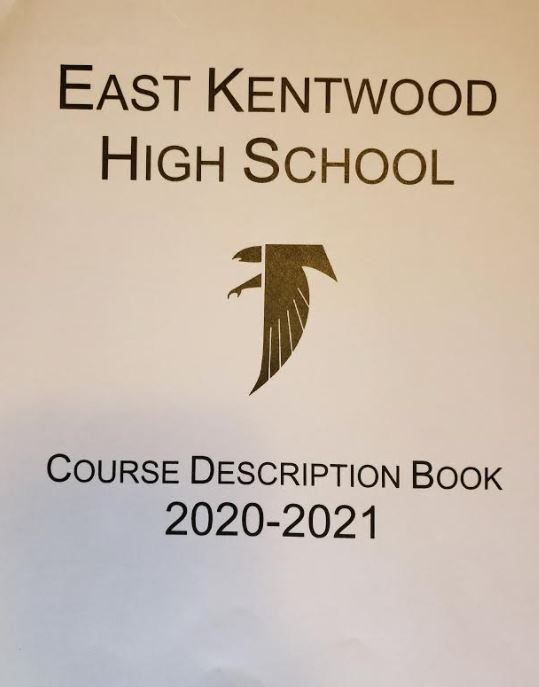 EKHS 2020-2021 Course Description Book
EK Middle College - Contact Heather Downer at [email protected] with questions.
Kent Career Technical Center (KCTC) - Program applications will be available after January.
Davenport Dual Enrollment:
Students will be emailed the link for either the General Dual Enrollment Application or the Davenport Onsite Dual Enrollment Application upon completion of the Dual Enrollment Interest Form and verified eligibility.
Parent Approval and Travel/Permission
Click the link to view the EKHS Dual Enrollment Guidelines and Information: Dual Enrollment Guidelines & Information