Class Scheduling & Learning Format Change
Class Scheduling Information & Opportunities
Click here for COURSE SCHEDULING 2021-22 website which includes Course Descriptions for all courses, videos from some teachers, KCTC applications, and more.
NEED A LEARNING FORMAT CHANGE?
It is our belief that students typically do best when they remain in whatever learning preference that has been selected vs. switching. We do, however, understand that sometimes a change is necessary to find success and/or health and safety. If the need arises then we ask that you will follow the guidelines, identified below. Unfortunately, we cannot allow students to change without going through this process, as we must insure that class numbers are safe and appropriate.
Step 1: Complete a Change of Learning Form by clicking on your COUNSELOR'S NAME below:
Ms. Twilling (Last names A-E) Mr. Mitchell (Last names F-L)
Mrs. VanOveren (Last names M-R) Mrs. Bailey (Last names S-Z)
Next Steps:
Your counselor will review your request and email you with any questions.
Your counselor will adjust the schedule to dedicated in person or dedicated remote classes as appropriate. NOTE: Teachers for some classes may change.
Your counselor will email your teachers and the student when the change is approved and your schedule is correct. Your new learning preference will not begin until everyone has received this email. Be patient--this process can take several school days.
New classes/learning preference begins on Mondays only. If you are requesting remote learning and need to stay home until the following Monday, a parent/guardian should call in to the attendance office.
Remember: We want all of our students to be successful, so we want you to choose a learning preference that works for you and stick with it. It is difficult for everyone to switch back and forth.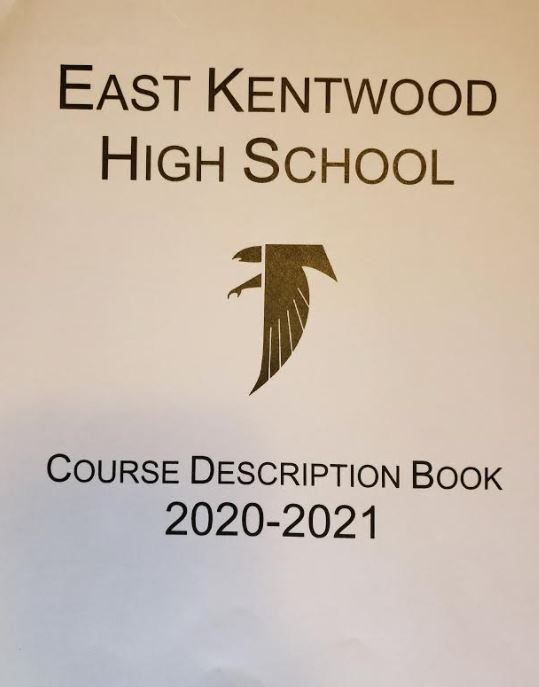 EKHS 2020-2021 Course Description Book
EK Middle College - Contact Heather Downer at [email protected] with questions.
Kent Career Technical Center (KCTC) - Program applications will be available after January.
Davenport Dual Enrollment:
Students will be emailed the link for either the General Dual Enrollment Application or the Davenport Onsite Dual Enrollment Application upon completion of the Dual Enrollment Interest Form and verified eligibility.
Parent Approval and Travel/Permission
Click the link to view the EKHS Dual Enrollment Guidelines and Information: Dual Enrollment Guidelines & Information