Class Scheduling Information
Summer School June 20 - July 28
Click here for ... Enrollment Form and Brochure
-----------------------------------------------------------------------------------------------------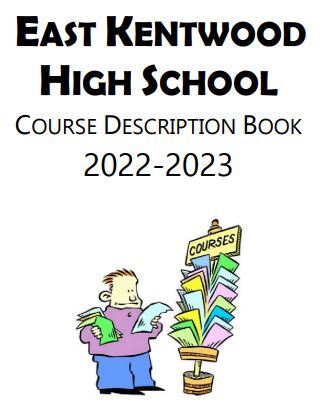 2022-2023 Course Description Book
Grading
Please use StudentVUE and/or ParentVUE (synergypvue.kentwoodps.org/) or talk to your teacher regarding your current grades and what can be done now to ensure you are successful in all of your classes. Email vuesupport@kentwoodps.org for tech help with StudentVUE or ParentVUE.
IF you need a schedule change, email your counselor.
Ms. Twilling (Last names A-E) Mr. Mitchell (Last names F-L)
Mrs. VanOveren (Last names M-R) Mrs. Bailey (Last names S-Z)
Click here for COURSE SCHEDULING website which includes Course Descriptions for all courses, videos from some teachers, KCTC applications, and more.
EK Middle College - Contact Heather Downer at [email protected] with questions.
Kent Career Technical Center (KCTC) - Program applications will be available after January.