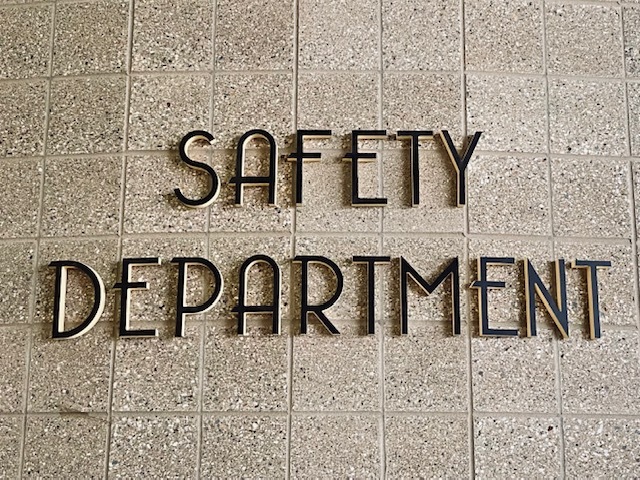 Kentwood Public Schools Safety Department
6230 Kalamazoo Ave
Kentwood, MI 49508
Our main office is located at East Kentwood High School
in the Grand Foyer just inside the Door "A" entrance.
The primary purpose of the Kentwood Public Schools Safety Department is to assist in providing a safe and secure atmosphere for the educational environment of our students and staff.
The KPS Safety Department works in collaboration with our student body, parents/guardians, staff, administrators and local law enforcement to provide a safe and secure learning environment. Our 15 staff work with students and staff in various buildings and in many different capacities.
To report a non-emergency school related incident:
During school hours contact: (616) 698-6700 ext. 42376
After school or weekends contact: (616) 698-6700 ext. 42376 and leave a message.
Chad Songer - Director of Safety
Phone: 616-871-1046
Email: [email protected]
____________________________________________________
Bonnie Geurink-Koetsier - Secretary to the Director of Safety
Phone: 616-426-5253
Email: [email protected]
____________________________________________________
Marquis Buggs - Manager of Safety Operations
Phone: 616-426-4516
Email: [email protected]
____________________________________________________
Julie Didion-Bayne - Safety Coordinator-2nd Shift/Events
Phone: 616-426-4521
Email: [email protected]
____________________________________________________
Jerome Gardner - Safety Coordinator-Pinewood Middle School
Phone: 616-426-5060
Email: [email protected]
____________________________________________________
Michael Lewis - Safety Coordinator-Crestwood Middle School
Phone: 616-426-4296
Email: [email protected]
____________________________________________________
Terrell Varnado - Safety Coordinator-Valleywood Middle School
Phone: 616-426-5222
Email: [email protected]