Welcome to Crossroads Alternative High School
The Staff of Crossroads/Kentwood Community Education, in partnership with the students, parents, and community will create a stimulating, positive, and safe environment ensuring mutual respect.
We believe that all students can learn essential and effective cognitive skills enabling them to be responsible and productive contributors in a changing world.
"ALL students are honored students"
STUDENT REGISTRATION
We are now enrolling students! Please call 616-261-6166 for an appointment.
SCHOOL DELAY/CLOSING INFORMATION
Whenever conditions warrant the closing of school, parents are asked to monitor the local television and radio stations beginning at 6:00 a.m. Every attempt is made to have the information broadcast no later than 6:30 a.m.
• If school is cancelled, all practices and rehearsals are also cancelled. A decision will be made at 1:00 p.m. regarding sporting events, and evening programs.
• There is no transportation to other districts.
• Childcare is provided for those families already participating in the Kentwood Childcare Programs.
• Parents should listen to local radio and television stations:
B93.7, WGRD AM & FM, WGUV, WKLQ, WLAV AM & FM, WOOD TV-8, WXMI TV-17, WWMT TV-3, and WZZM TV-13.
In the event of a Two Hour delay:
• Busses will pick up students 2 hours after their normal pick up time. For example, if your bus normally arrives at 7:35 a.m., it will now arrive at 9:35 a.m. The afternoon drop off times would remain the same as normal.
• Breakfast will be served approximately 2 hours after the normally schedule time. For example, if your child's breakfast normally starts serving around 7:55 a.m., they will start serving around 9:55 a.m.
• School will begin 2 hours after the normal start of school. For example, if your child's school starts at 8:59 a.m., they will now start school at 10:59. Kentwood Staff will also report two hours after their normally scheduled time.
• All morning ECSE, Tuition Based, and GSRP classes at Hamilton will be cancelled.
• First session of KCTC/KTC classes will be cancelled. Second session KCTC/KTC will begin at the normally scheduled time.
• Childcare is provided only at the Hamilton Early Childhood Center for those families already participating in the Kentwood Early Childhood
Programs. (same as a cancellation day)
CROSSROADS 2 HOUR DELAY SCHEDULE
9:15-9:34 - Breakfast
9:34-10:12 - 1st Hour
10:15-10:53 - 2nd Hour
10:56-11:34 - 3rd Hour
11:37-12:15 - 4th Hour
12:15-12:45 - Lunch
12:48-1:26 - 5th Hour
1:29-2:34 - 6th Hour
On Monday, November 25th, 2013 15 young men at Crossroads Alternative High School were inducted into the inaugural Crossroads Brotherhood group with family, friends, English teacher and Crossroads Brotherhood founder Mr. Mike Ketelaar, Crossroads Principal Mr. Rick Hatfield, and Kentwood Public Schools Superintendent Mr. Michael Zoerhoff in attendance. Crossroads Brotherhood was created with the goal of providing leadership opportunities and community outreach for young men willing to hold themselves accountable to strict academic, behavioral, and attendance expectations mandated in a social contract signed by these young men and their parents/guardians. Crossroads Brotherhood has five pillars of focus used as scaffolding to help these young men grow into better men, sons, and citizens including: academics, behavior, attendence, fellowship, and most importantly community outreach. Crossroads Brotherhood will be building a Habitat for Humanity home on January 3rd, 2014 as our first community outreach program with the hope of building character while giving to those desperately in need. Crossroads Brotherhood looks forward to positively impacting the Kentwood community.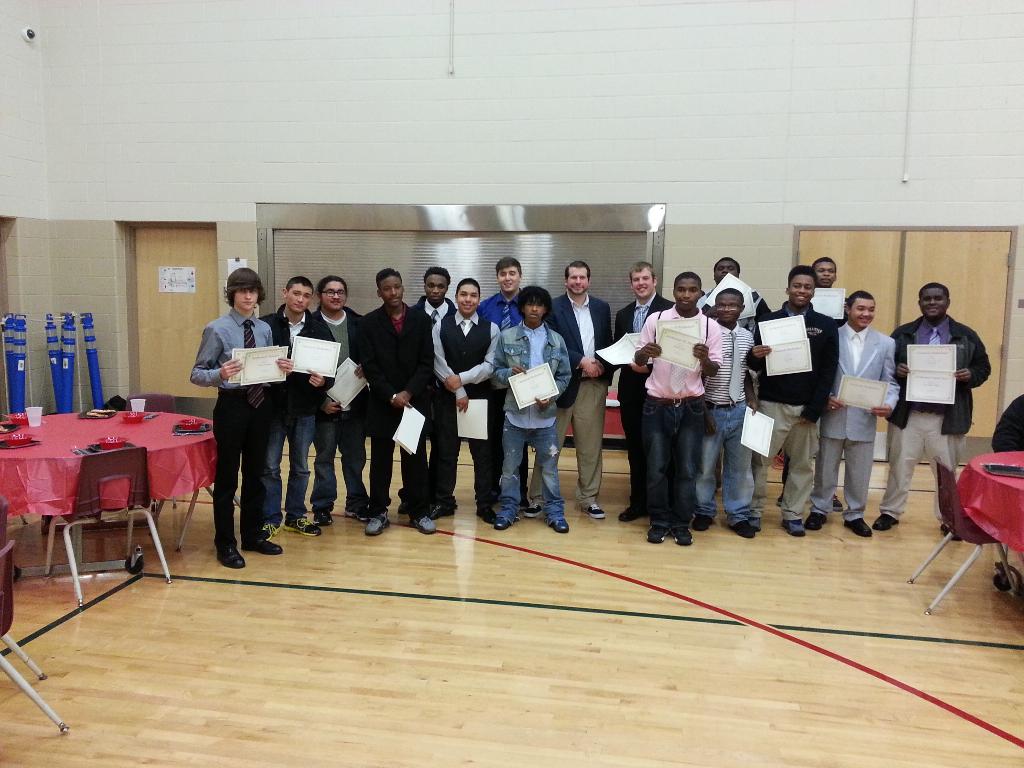 The Girlz Rock group will be doing an ice cream sundae fundraiser for Maddie Pagel (a three year old Kentwood Resident who is fighting cancer for the second time). In these pictures, they are decorating bags for Streams of Hope. When oarents go to Streams of Hope food bank and a child goes with them, the child receives a little goody/treat bag. That is what our girls are decorating. They looked pretty amazing and volunteered their lunch time to do it.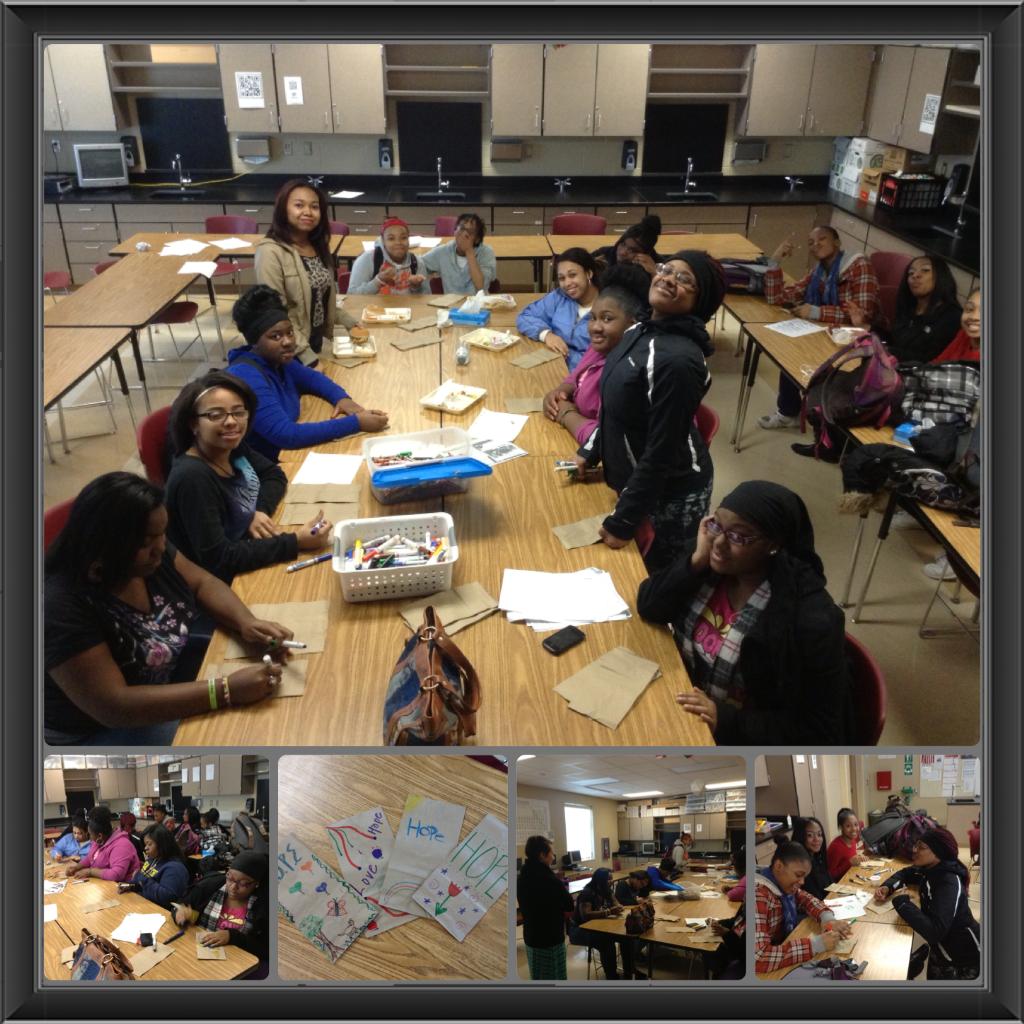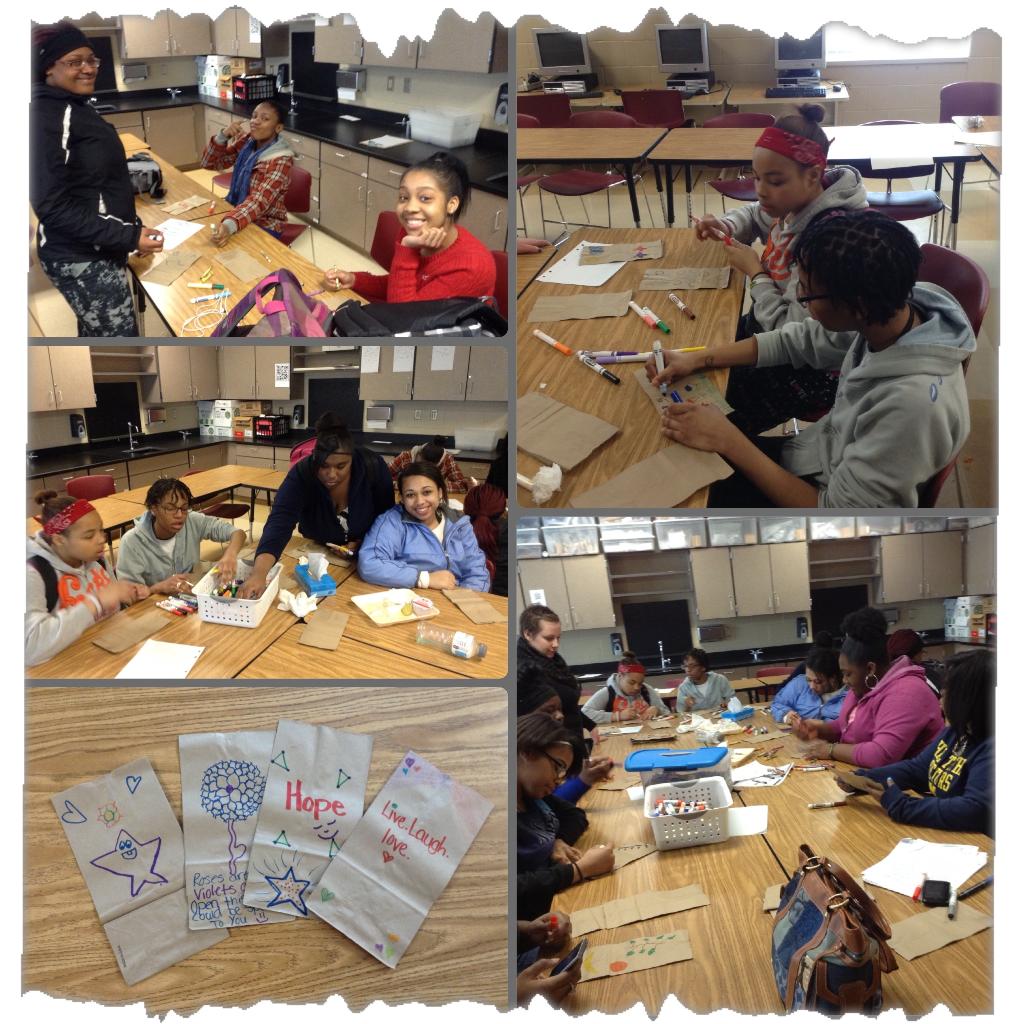 Heather Sellon's Economics class at Crossroads Alternative High School just completed a trimester Junior Achievement course taught by Shannon Burkel of Axios Inc. Shannon Burkel walked students through a program endorsing work-readiness, entrepreneurship, and financial literacy skills. Crossroads students were very excited to have a local professional share her knowledge and time to prepare students for what they will face after high school and college. Shannon greatly enjoyed her time at Crossroads and was impressed by their passion, inquisition, and kindness. Congrats to the following graduates of Junior Achievement:


Montez Gales

Trentin Thomas

Lashaya Longer

Christian Bentley

Joel Hobson

Seth Brown
Binyam Garoy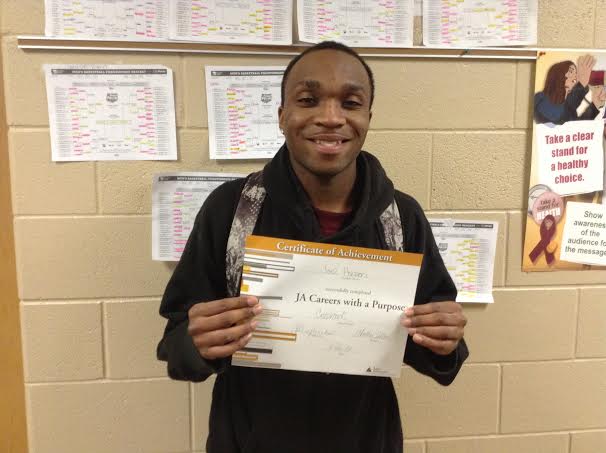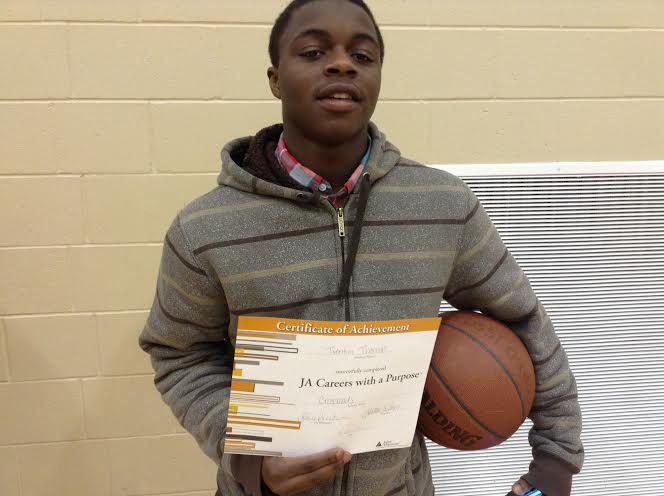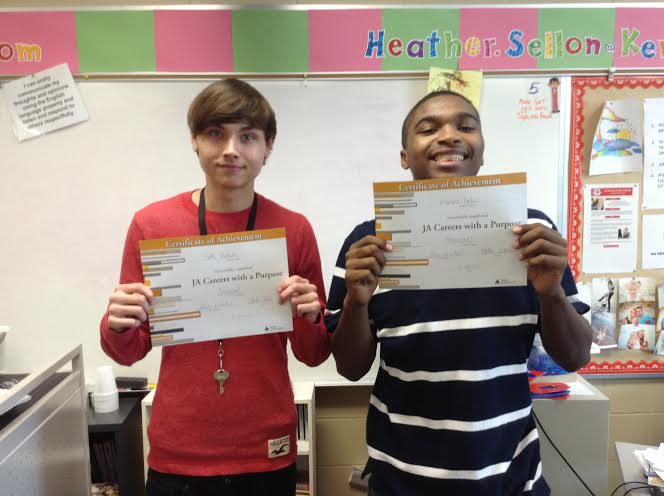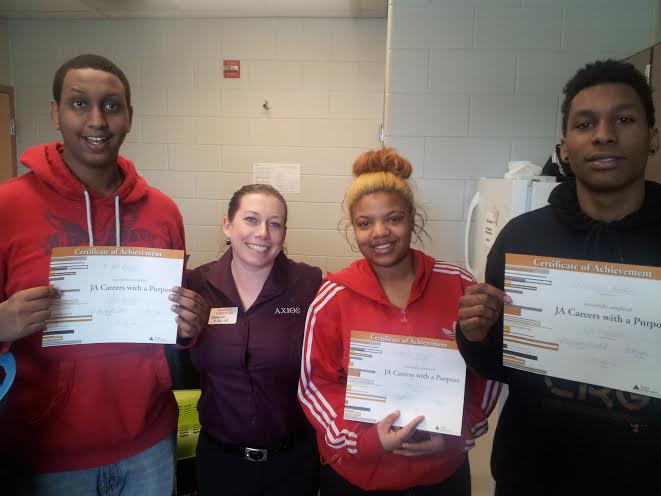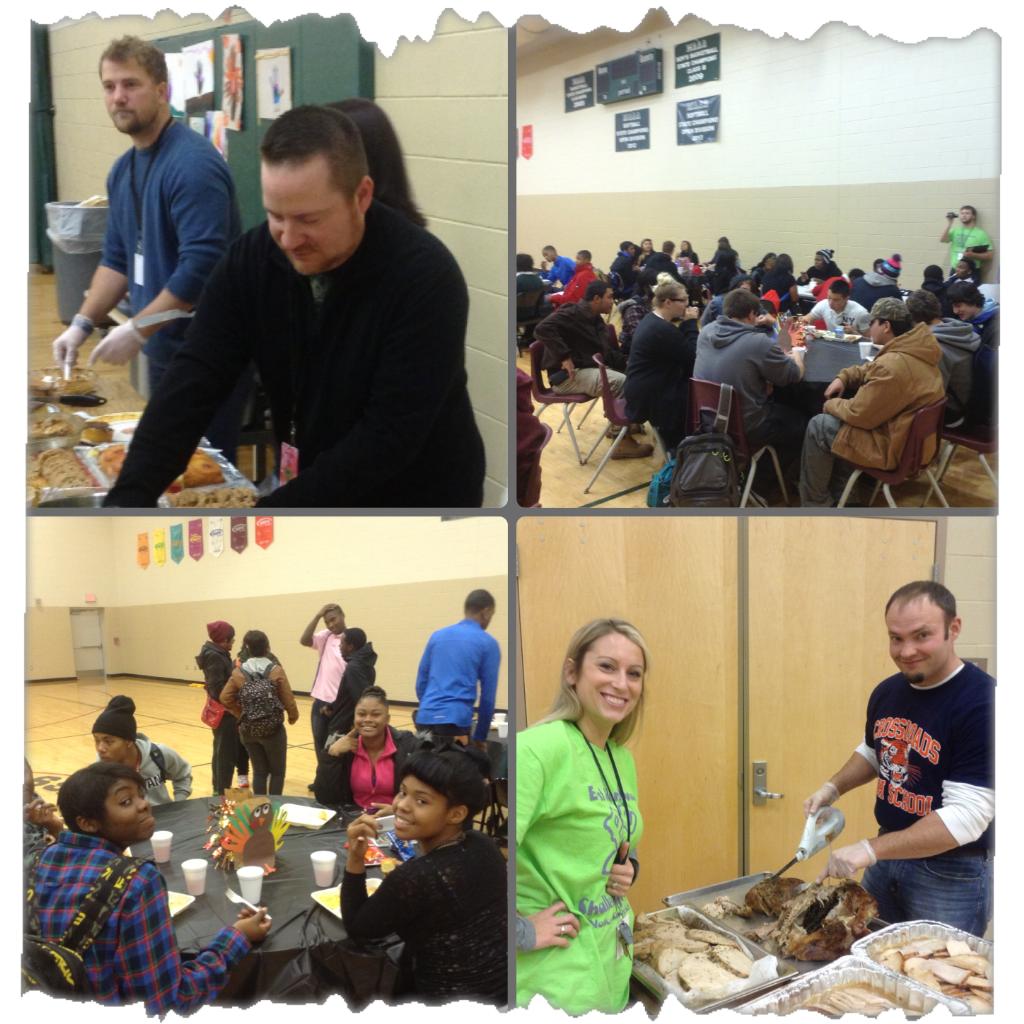 On Monday, November 25, 2013, Crossroads staff held a Thanksgiving luncheon for our students. The day was held in conjunction with a "spirit" day where students and staff were encouraged to wear their Crossroads t-shirts, shirts, and/or their Challenge day shirts. As you can see from the pictures, all students at Crossroads are honored for their academics, behavior, and willingness to be a leader.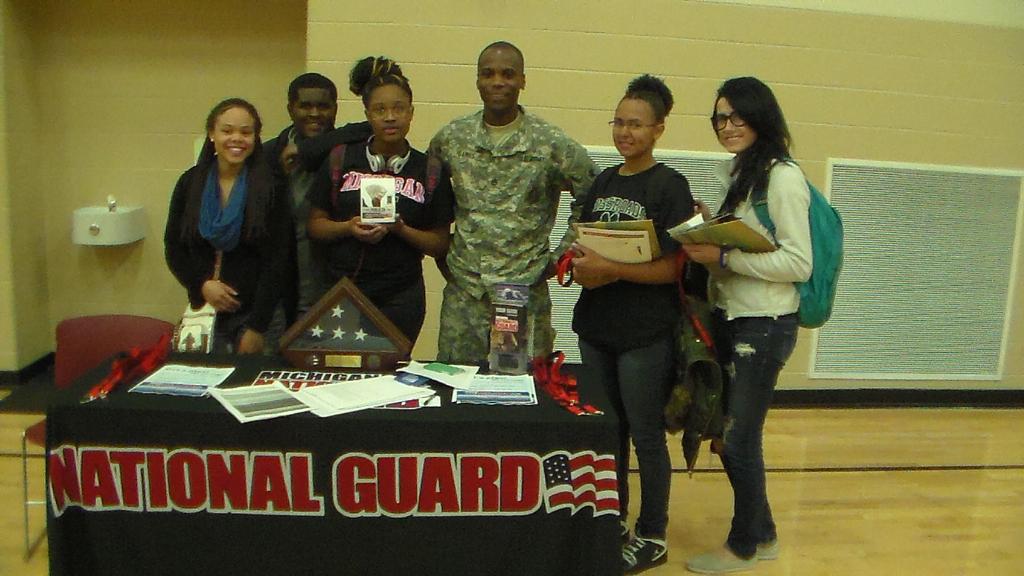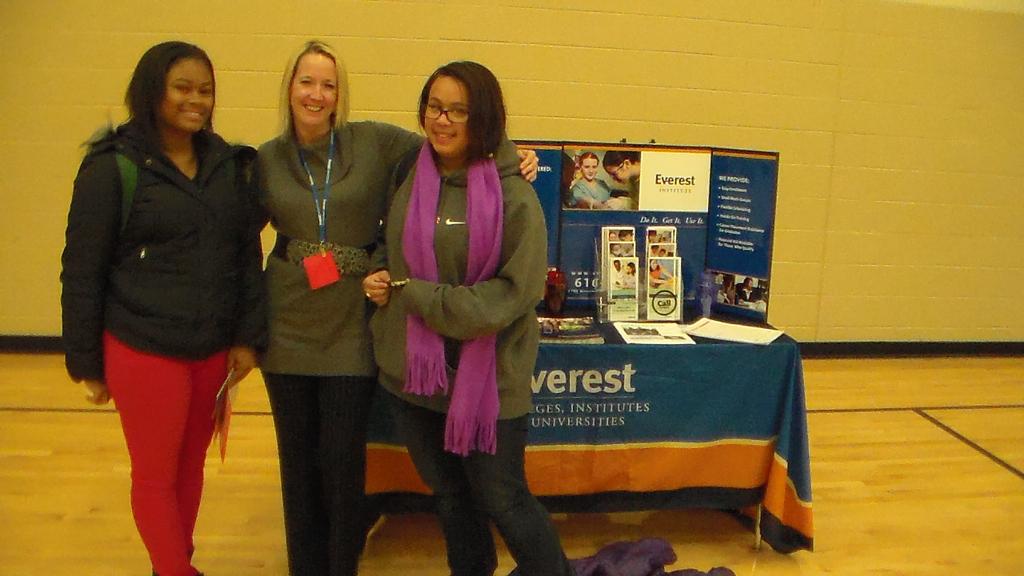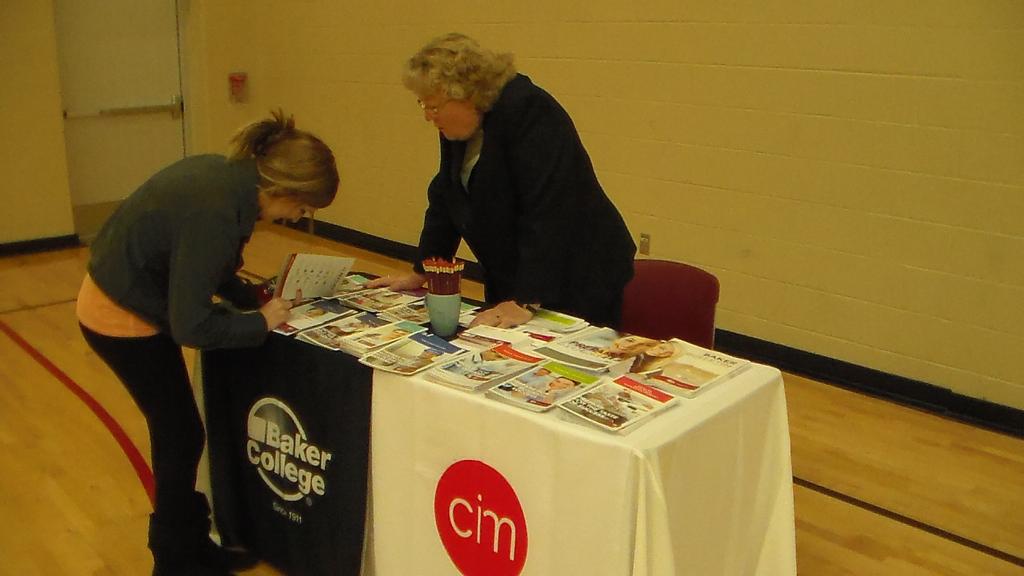 Challenge Day
– Our first Crossroads Challenge Day was a huge success! This amazing program is designed to bring students together and reduce the temptation of bullying and harassment. While many gained new friendships, others realized how important it is to step outside their comfort zone and interact with people they usually do not interact with.
We are so proud of our staff and students for the trust they put in each other and the motivation and planning to keep the "Be the Change" message alive! We would like to thank the Kentwood Educational Foundation and the Kentwood Public Schools Administration for allowing us to participate this year. A special "thank you" to former EK student Alex Connor for his inspiration in helping to bring Challenge Day to Kentwood!
Career Day
– Crossroads High School hosted its second annual Career Day on Thursday, November 14. Eleven professionals from the Kentwood and Grand Rapids area came to share, with small groups of students, about their profession, training required, potential salaries, and employability percentages upon completion of training.
Students learned about the fields of culinary arts, construction, cosmetology, nursing, business management, and more! Larger groups of students had the opportunity to visit with local colleges, universities, and branches of the military.
If you have any questions regarding your child's grades, attendance or homework, please feel free to call Serita at 616-261-6166. Thank you!
DRIVER EDUCATION (SEGMENT 1) - East Kentwood High School will be offering Driver Education to eligible students this summer. Two sessions are available, Session 1 from June 16-July 3 and Session 2 from July 7-July 24. The fee is $340.00 (Segment 2 is included in this fee). Enrollment forms will be available in January, 2014. More information on exact sign up dates and deadlines will follow. There will be two REQUIRED student/parent information meetings. The dates are: Tuesday, May 6 and Thursday, May 8 at 7 p.m. in the East Kentwood Freshman Campus Cafeteria.
Crossroads Leadership 16th Annual Care Bag Project
Here at Crossroads, our studednts annually donate items to charities around Christmas time. Again this year, our Leadership class has decided to collect items for personal care packages again due to the huge success of the last 15 years of generous donations. These items will be donated to Holland Rescue Mission, Kentwood Public Schools' homeless youth, Mel Trotter Minister, Ronald McDonald House and The Bridge.
One of our Leadership students, because of unfortunate circumstances, was forced into a homeless shelter for women and children. She luckily received one of the care packages and said, "it made me feel human again."
The following are some of the items we are hoping you might consider donating:
Shampoo, Conditioner, Combs, Cotton Swabs, Toothpaste, Dental Floss, Deodarant, Lotion, Razers, Shaving Cream, Hair Ties, Body Spray, Tissue, Wash Cloths, Makeup, Gallon size Ziiploc Freezer Bags, Child Care items, Small toys and Crayons. Other items relating to personal care will also be greatly appreciated. We will glady accept any travel size or full size items (ask your dentist or any hotel where you stay for some extras). All donations should be sent to Leadership at Crossroads High School.
We would like to distribute the donations during the week before Christmas so we will need all the supplies by Thursday, December 12, 2013. This allows us shopping time to fill the gaps with the money donated by Crossroads Staff in lieu of exchanging gifts for Christmas. We would also gladly accept cash donations. We will be delivering all donations on Thursday, December 19, 2013.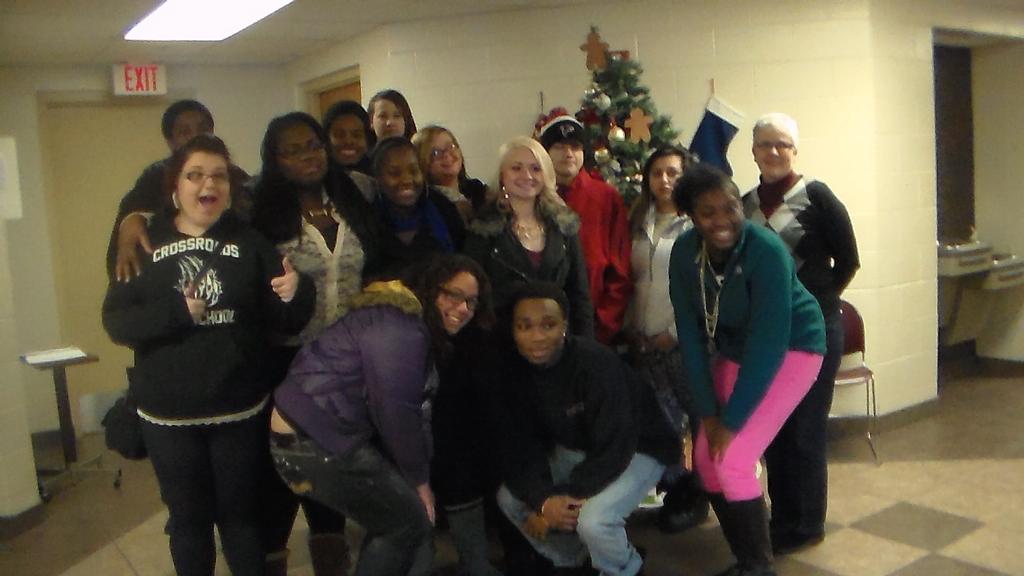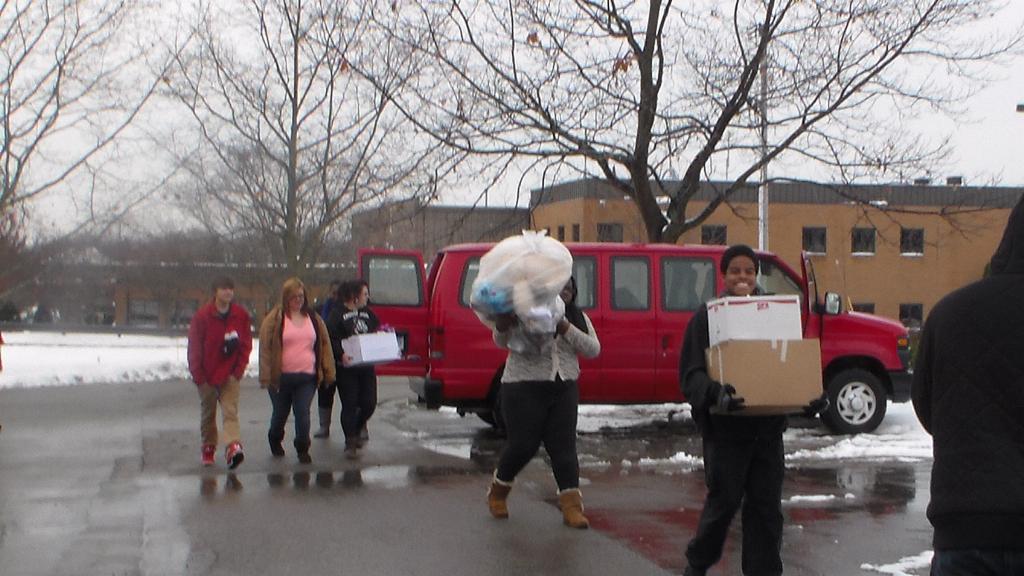 http://www.mlive.com/news/grand-rapids/index.ssf/2013/12/kentwood_alternative_high_scho.html#incart_river_default
MI BLOOD DRIVE Crossroads is committed to hosting three blood drives annually. We would like to invite you to donate a pint of blood at our upcoming scheduled drives, which are Thursday, October 3rd, Thursday January 16th and Thursday April 16th from 12-4 p.m. Each donation can save up to three lives. Thanks so much for your consideration.
Literacy for Life/Read Across America Day
On Thursday, February 28 and Friday, March 1, Crossroads' students visited Bowen, Meadowlawn, and Townline Elementary schools' K-2nd grade students to read and demonstrate the importance of literacy. Our goal was to stress the importance of reading and to give each child a book to keep so they could practice reading at home. We collected approximately 800 new and gently used books. We are grateful for our Kentwood Public Schools' community members, students, and staff for helping us to surpass our goal of collecting 540 books. Leadership would also like to extend a thank you to our Kentwood Community Partners: Barnes and Noble, Costco, Kent District Library, Kentwood Educational Foundation, Schuler Books and Scholastic for supporting our literacy project with monetary and book donations. We look forward to sharing a video of the Read Across America Day activities with you soon.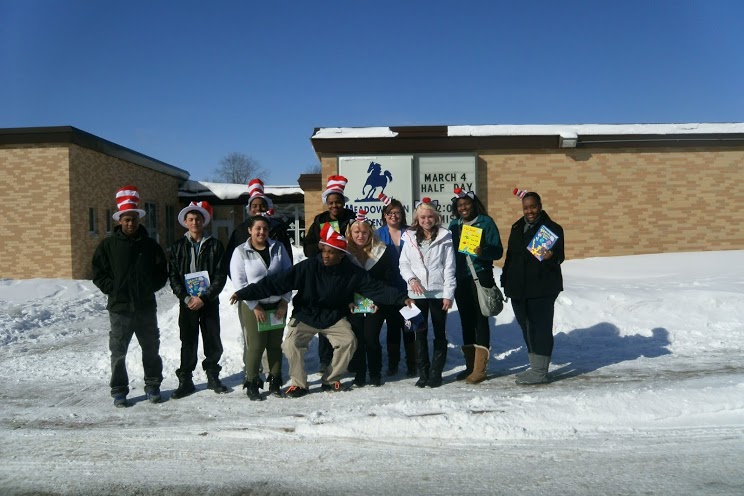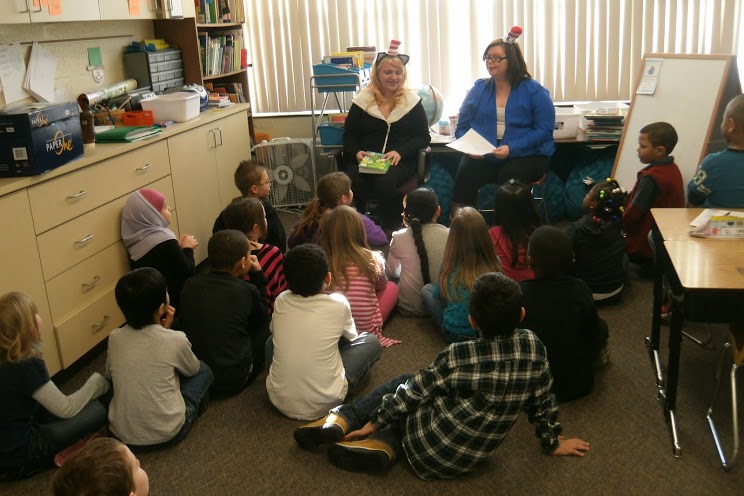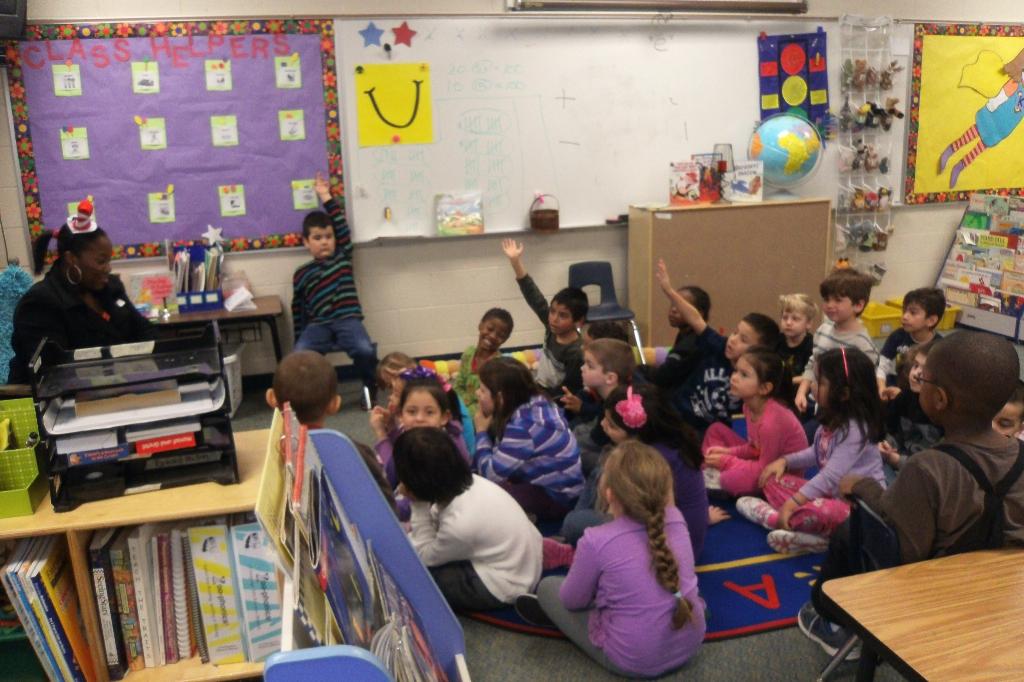 Crossroads News

RSS
"Fathers, Bring-Your-Child-To-School Day"
October 24, 2014
Dads (or other significant male role model) bring their elementary-aged
children to school. The school arranges and provides breakfast for the Dads and children. An assigned, professional athlete gives a short, uplifting message to the Dads. Dads visit their children's classrooms if possible.
Morning Timeline:
8:15 Dads and children begin to arrive at school
?
8:15-8:40 Breakfast is served
?
?
8:40
Official welcome and instructions given by principal
8:45 Children report to playground
8:50-9:05 Uplifting message
9:05-9:15 Dads are encouraged to visit classrooms
Professional Athletes and Building Assignments
Bowen Corey Alston - New York Jets WR
Buster Mathis- Professional Boxer
Brookwood Reggie Jordan- Los Angeles Lakers G
Vincent Jennings- Professional Boxer
Challenger Mateen Cleaves- Detroit Pistons G
Grand Rapids Drive- Detroit Pistons D-League
Discovery Aaron Bailey - Indianapolis Colts WR
Anthony Kimbrell- CFL QB- Western Michigan
Endeavor Reuben Riley - Carolina Panthers OT
Explorer Carlton Brewster - Cleveland Browns WR
Glenwood Kevin Clemens - Jacksonville Jaguars RB
Jordan Shimell- Professional Boxing Champion
Meadowlawn Colin Christopher- University of Indiana LB
Terrance Shaw- Grand Rapids Fusion F
Southwood Brian Dickey- University of Michigan QB
Pete Trammell- Lansing Capitals G/F
Townline Thomas Kelley - Michigan State Spartans G